Costa Rica Ecotourism
For many years now Costa Rica has been one of the best places on earth to visit, recognized especially for its focus on eco tourism. Each day thousands of people file through the immigration lines, backpacks and suitcases filled with bikinis and sunscreen, guidebooks and maps, hiking boots and hammocks, all in order to see first hand the beauty and diversity of amazing Costa Rica.
How did Eco Tourism Start in Costa Rica?
Ecotourism is nothing new to Costa Rica. People have been flocking to its picturesque beaches since the movie 'Endless Summer' presented the coast's first-rate surfing waves to the world in 1966. Although known for its numerous surfing spots, it wasn't until the late 80's and early 90's that people began to appreciate and explore the many other natural wonders.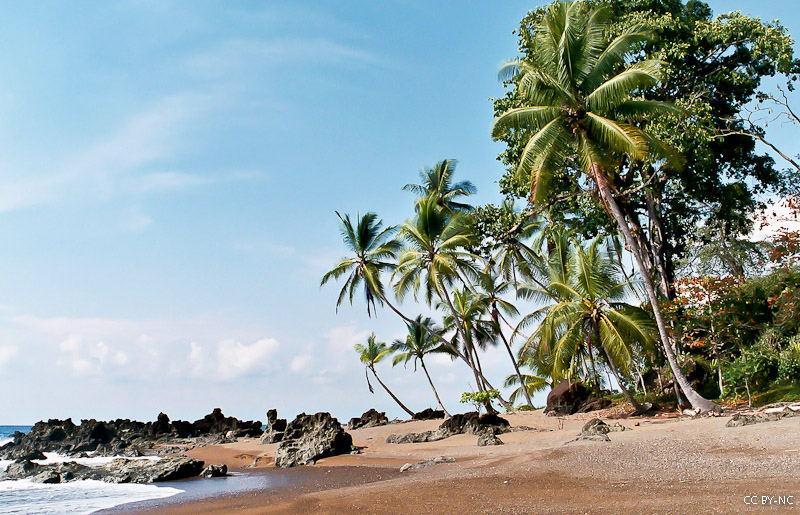 With no army to finance, the Costa Rican government made a bold move and decided to protect large portions of its jungles and forests. As its neighbors like Panama and Nicaragua were selling their timber to the USA, Costa Rica nationalized almost 25% of its land, securing its future as one of the most biologically diverse environments on the planet. Years of political stability and a highly successful democratic process have also served to promote Costa Rica as the top destination in Central and South America.
Eco Tourism over Bananas and Coffee
For many years the cash crops in Costa Rica were bananas and coffee. This has changed in the past few years, as eco tourism is now the top economical producer, bringing in just below 2 billion dollars each year. This certainly doesn't mean that the banana and coffee industries are dead. It means that there are plenty of cups of coffee and ample bananas for the tourists to enjoy.
As the ecotourism industry began to take off, Costa Rican farmers cashed in. North Americans came in droves to buy lands and build ecolodges and hotels, hoping to escape the stress of western life and welcome happy travelers instead.
Large hotel chains like Marriot and Four Seasons have left their huge carbon footprints on the soils of Costa Rica, but more popular have been the successful eco minded lodges and eco hotels that have sprung up all over the country.
Staying Close to Nature is a Principle of Eco Tourism
The Cost Rican people are proud of their country. They honor the animals that live in the jungles. They delight in the beauty of their many bird species. They support their environment by educating their citizens about conservation and wildlife protection. For these reasons, Costa Ricans, referred to as Ticos, are happy to share the bounties of their country with foreign visitors.
The average Tico appreciates what the earth has to offer. Most households have planted fruit trees or small vegetables gardens in their yards. This is true even in the larger cities like San Jose, Puntarenas and Liberia. The land is an extension of the people and part of their everyday life. This closeness to nature is evident in the way the entire country opens its arms and invites the world into its back yard to share its many gifts.
Hot Spots of Costa Rica Eco Tourism
With 24 national parks to choose from, it is easy to get lost in the ecotourism world of Costa Rica. Let's focus on a few spots to just show the immense diversity of choices.
Corcovado National Park is found in the far southwest corner of the country. Most of this area is only accessible by foot, as motorized vehicles are not allowed. Many ecolodges are scattered throughout this area, often with specialized interests like yoga and wellness. This park is considered to possibly be the most biologically diverse place on earth. Having a guide is essential as it's easy to get lost, and there are many snakes that could cause you serious problems if bitten.
Tortuguero National Park is on the opposite corner of the country, covering the northeast boarder and coastline adjacent to Nicaragua. It is thick in mangroves and waterways, and provides sanctuary for four species of endangered turtles for nesting.
Arenal Volcano National Park offers spectacular views of flowing lava on the right night. Weather conditions can vary, but the lucky traveler will be in for a treat. The many hot springs in this area are a soothing retreat for any person wanting to rest for a short while in the extraordinary beauty of Costa Rica.
Santa Rosa National Park is vastly different from the others, as it is very dry in the summer, and is pelted with high 'papagayo' winds in the winters. It is one of the largest protected dry forests in Central America. The flowers there are spectacular, and the beaches are a sun-lover's haven.
Manuel Antonio National Park possesses arguable some of the best beaches in the country. A rising jungled hill with its cliffside falling into the blue ocean, separates the local public beach from the protected, iguana lined beaches inside the park. Tours through this park will reward you with insects, primates and reptiles that will thrill your adventurous senses.
The Future of Eco Tourism in Costa Rica
The future of ecotourism in Costa Rica depends on its people and its government. Two factors are most important, education and exploitation. If the public demands that their government not give in to special interests and continues to regard the land as precious, then Costa Rica has a bright future. This means that the government will continue to fund projects and educate its youth on the importance sustainability and respect for the environment.
If companies are allowed to buy their way into protected lands, or pay their way past building codes and restrictions, then soon Costa Rica will be spattered with unattractive properties in places that are meant only for trees and animals.
Be a Part of Eco Tourism in Costa Rica
Book your next vacation at an ecolodge or ecohotel in Costa Rica. Whether you are traveling alone or with family, or the romantic couple on an adventurous journey together, Costa Rican ecotourism has everything to fit your vacation needs.