How Can You Get in Touch with Natural Tranquility using Yoga in Costa Rica?
Yoga is an ancient Hindu practice of meditation designed to bring you into harmony with your surroundings and return your body, mind, and spirit to a state of peace. In today's high pressure world, working at experiencing such a peaceful relief is even more important to ensure both our mental and our spiritual health. Few people today study yoga so intensively as to achieve the higher states of consciousness that this discipline offers at its more advanced levels, but you can still refresh yourself greatly by engaging in this practice when you have the opportunity.
Yoga is a study of mental harmony, and harmonious surroundings are obviously more useful for this than the noisy interior of a bus station or a one-room efficiency apartment located beside a major highway. Costa Rica, with its huge swaths of rainforest, abundant natural life, and richly developed ecosystem, offers you an unparalleled venue for all types of yoga exercise and meditation, ranging from the purely physical to the truly enlightening.
The hotels, resorts, and retreats found throughout Costa Rica, which cater to ecotourism from every corner of the globe, also frequently include yoga programs. Their organizers fully appreciate the opportunity that Costa Rica's natural riches offer to get in touch with nature, build a sense of inner tranquility, and broaden one's spiritual perspectives.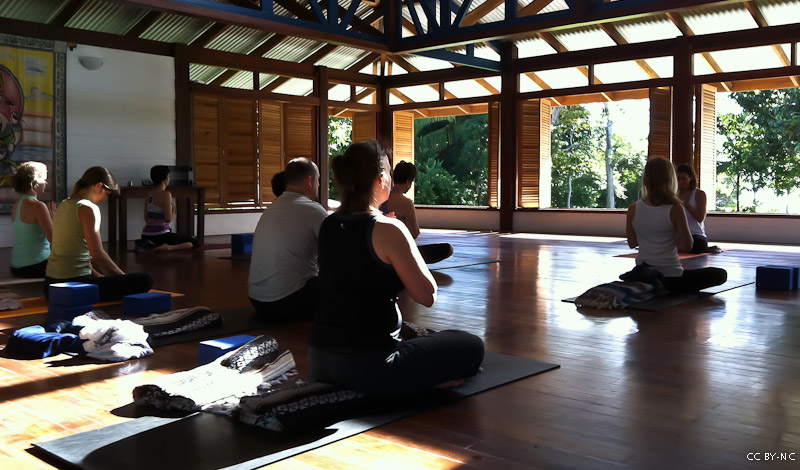 You can go to Costa Rica purely for a yoga retreat, or you can make this part of a larger visit during which you engage in ecotourism, enjoy the other recreational activities such as fishing which abound in this Central American paradise, or simply relaxing and seeing what each new day brings.
What Opportunities for Yoga in Costa Rica are there Along the Coast?
With coasts on three sides of the country – east, south, and west – Costa Rica is blessed with an abundance of oceanfront property which you can turn to your advantage when you are looking to carry out yoga exercises in this famous tropical land. Each type of habitat within Costa Rica offers a different approach to yoga meditation and to ecotourism as well. You can stick to a certain type that you like best, or sample different venues on the same or successive visits.
The coastal areas of Costa Rica (whose very name means "the Rich Coast") are most welcoming to visitors along the Pacific Ocean side of the country. The Caribbean side, despite bordering on this famous sea, is more commercially developed and has far few mangroves, which are one of the natural wonders sought out by many ecotourists, and regular tourists as well.
There are many situations along the Pacific coast that are ideal for yoga, and you will be able to find resorts and hotels which specialize in this intriguing blend of physical and spiritual exercise. The beach areas here offer you a perfect spot to sit and meditate, lulled by the soft sound of the waters and their gleaming, flowing motion until your mind casts off the shackles of everyday experience and moves in the direction of enlightenment instead. These areas are much more peaceful than many crowded, boisterous tourist spots and are conducive to a clear, calm, far-reaching mental state.
When you are ready to take a break from meditation and developing your spiritual liberation from worldly concerns, there are plenty of quiet, pleasant activities just an arm's length away. These activities are very enjoyable, but will not disturb the harmonious mood you have attained. Sunbathing, swimming, sitting near a beach fire under the stars, fishing, or going on an ecotour through the richly life-filled mangrove forests of Costa Rica's maritime verge will bring you even closer to nature and to the free, relaxed mental state you are aiming for.
Yoga in Costa Rica – What is the Best Area in the Winter Months?
When you want to get in touch with your inner self and bring your mind and body into poise with one another in the cold, northern hemisphere winter months, a trip to Costa Rica and a stay at a hotel or resort that caters to yoga enthusiasts may be just what the swami ordered.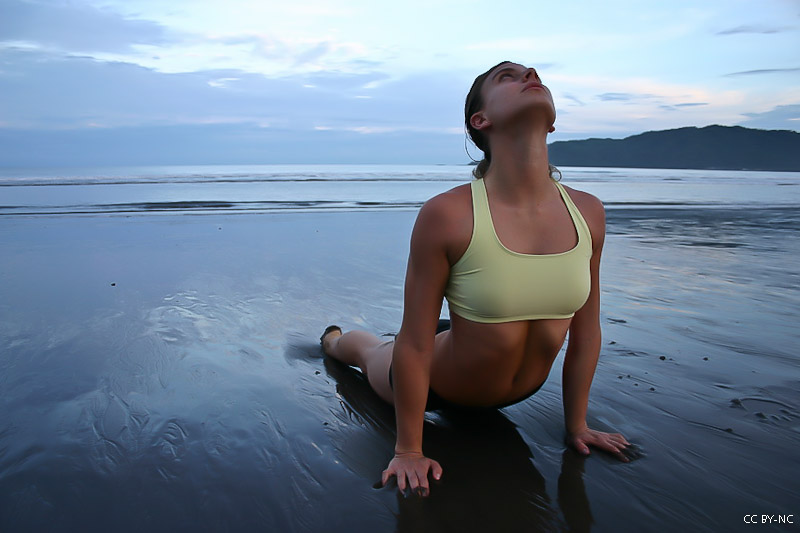 Choosing the place where you go carefully is key to making the journey (both physical and spiritual) as successful as possible. If you are planning to get a relief from the winter dreariness of northern climes by visiting this lush tropical land, with its perpetually even days and year-round butterflies, birds, and flowers, then the long slopes descending towards the Pacific Ocean from the summits of Costa Rica's central volcanoes is an excellent option to consider.
Why are the Dry Forests so Suitable for Yoga in Costa Rica?
These areas are home to the country's dry tropical forests, as opposed to the cloud forest found in the central mountains or the dense, dripping rainforest on their eastern flanks. This region features a lower forest canopy, more open plant growth which encourages brisk walking or even jogging, and much more sunlight than the moist, misty valleys of the east. Many of the trees are strange, prickly tropical species with thorns to deter the peccaries frequently encountered here.
In the dry season months from November through early April, this forest bursts into blossom with flowers of white, pink, peach, and crimson hue. This makes an extraordinarily beautiful and soothing backdrop for your meditations, while the fragrant peace of the forest beckons whenever you want to be alone and let your mind harmonize with the quiet rhythms of Nature. At night, you may even experience the primal connection of hearing a powerful, untamed jaguar roar in the distance – a peaceful sound in its own right when viewed in the correct way.
Exploring Yoga in Costa Rica with the Mysterious Forests of the East
When you awaken in the morning from a night of peaceful repose, soothed by the distant calls of tropical birds and beasts rather than jangled by the roar of traffic and the honk of horns, and walk out to greet the morning and find yourself confronted by a valley full of lush, pristine jungle over which mysterious wreathes of mist slowly glide, you will not only feel refreshed, but ready to tackle another day of spiritual enlightenment head on.
The rainforest retreats designed for yoga practitioners in the country's eastern and central regions are superbly adapted to put you in a contemplative mood through their mix of majestic forest and intricate, beautiful natural detail. It is easy to get in touch with your inner life while watching the hypnotic folding and unfolding of a morpho butterfly's wings as it sits on a brilliant flower beside a sunlit jungle trail, or expand your perspectives listening to the haunting cries of howler monkeys echoing in a mist-shrouded vale, seemingly the only sound to the very edge of the world.
Costa Rica is a very special portion of the Earth's surface, and the magnificence of its natural treasures are an aid to unforgettable yoga sessions – and plenty of engaging ecotourism as well.